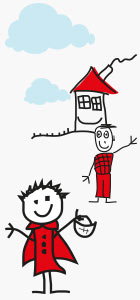 Educational activities and experiences
We organize educational activities of various kinds aimed at the little ones to enhance their cognitive and motor development
With these activities, the daily work habits, learn the language, know your body and learn to relate to each other, exploring the environment, starting in math and train their psychomotor apparatus.
In addition, also perform other more relaxed as listening, singing and dancing all kinds of music, playing with plastic, trips abroad to know the surroundings and enjoy nature, or free play to what they desire most activities, while respecting rhythms and interests of children.
Both materials such as educational games are renewed annually
Through a series of targeted and planned activities and games for each period of child growth, nurseries Txanogorritxu - Red Riding Hood, we care for them and support them in every step of their learning.
Each center to prepare children to find him a place to experiment, browse, search experiences ... where you feel safe and loved.
Every day children have to learn, satisfy their curiosity, burn all that energy they have inside, eat properly, rest, play, socialize with other children, imitate, memorize, learn social norms, paint, sing... and so , endless things that go by them to grow socially, physically and emotionally.
Individual and group (large and small) activities are combined; indoor and outdoor; free play and run. We encourage those that are initiated by the children themselves.
Throughout the school year, the activities performed by children in the Nursery weekly Txanogorritxu - Red Riding Hood, are presented to families. In this way we interact with families and day care to follow the same educational project in both places.
The materials used in all activities in the Txanogorritxu Kindergartens are preferably natural, wood, cardboard, cork, leather, PVC, etc...
These materials are commonly used daily and in houses, usually children already know. There needs to be enough for all material, in order that they may experience conflict situations without cause.
It is also very important to the renewal of this material.